a tribute
to our unsung heroes...
---
by Jolyn and Nadia

You've seen them around school...

The teachers call them when they need help with the audio-visual equipment. We seek their help to resuscitate the computers that are "hung" in the labs. We go to the office to ask them for help, be it directions or office supplies. At the library, they help us look up and check out our books...

Who are we talking about? The school's non-teaching staff of course! The librarains, office administrators and the computer, laboratory and audio-visual technicians - all work behind the scenes to ensure that the school functions properly.

In this article, Tribune pays tribute to the non-teaching staff and talks to them about their experiences working here. We ask them how long they have been in RGS, what it is like working here, what motivates them, what their most memorable experience was, and if they have any appeals to make to the students. Read on to find out what they have to say!

mr. morris gabriel and ms. rose cabrera
Where you can find them: @ the HOD room or "moving around school"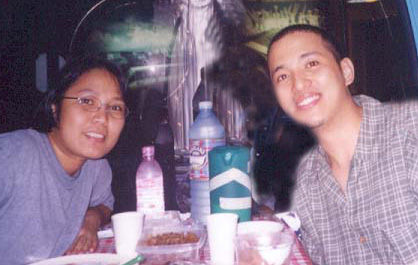 Mr. Morris and Ms. Rose joined the schoolrecently. In their 9 months here, they have developed a good working relationship with one another and with the rest of the school. Being "Filipinos and naturally friendly", they have already made many friends among the staff.

Their job invovles solving the many IT problems of the school's various computer labs and lending technical support to the teachers when they encoutner difficulties during IT-based lessons. They have improved their own IT knowledge in the course of learning how to use the Encarta and other programmes.

Mr. Morris says his work is "challenging and fulfilling. When we have to do a particular event, we get a sense of fulfilment...especially when everything goes smoothly. I just do my job. I's a job that I have to do, so I've got to give my all and give a good impression. Not only that...(to much laughter from staff members who were eavesdropping) I want to be known as the best there is, there best there was and the best there ever will be.

Ms. Rose has similar sentiments, saying that "it's a challenging job because I'm working in RGS and we have to do our best since this is the best school. The job also makes me feel happy because in eevrything we do, we've got to be happy and give our best. There is also continued learning bceause I'm still young and I want to learn a lot. I want to stay in Singapore and having a job is a good thing. If you have a job, you have to do it well because if you lose it, you lose a part of yourself and your self-esteem. My job is also a source of income for me to support my family with, so it is very important to me."

Both agreed that their best experience was "definitely the 2001 Staff Seminar. We got to know more about our colleagues and peers, which we would never have known if we had just been woring in a lab." They also found out that the teachers were "acutally very emotional people (we wonder who the emotional ones were). We also shared stories about our lives with one another. Actually, everyday is a good experience since you never know how long you are going to stay in Singapore."